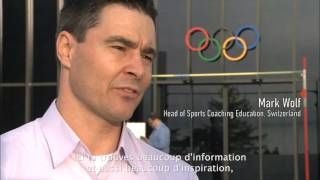 A one day interactive conference on the psychology of sport performance, motivation and mental training for coaches of youth athletes
We are offering a full day of intense training with a certified sport psychologist, professional motivational trainers, professional coaches and athletes. It's a unique opportunity to help you take your coaching skills to the next level and maximize your team's or athlete's performance
Do you want to be a better coach? Do you want to help your athletes to breakthrough? Do you want to take your athletes to the next level?
TOPICS INCLUDE: Psychology of performance, Mental preparation, Positive coaching, Athlete Mental Health, Connecting with your teenage athletes, Motivation, and more
EVERY ATHLETE DESERVES A GREAT COACH! YOU CAN BE THAT PERSON
You will interact with coaches in other disciplines, gain new skills and techniques, and most importantly, learn how to get the most out of your athletes!
Terry Orlick
Terry has a PhD in sport psychology, and is the world renown leader in teaching and coaching people how to perform to their capacity through mental training and focus. He has worked with 1000's of Olympic and  professional athletes, coaches, corporate leaders, astronauts, etc. Terry is the author of 24 books in this field.
Terry's winning philosophy, that he will share with us at the Inside Game, is that Excellence is a choice.  If you as coaches really want to excel, and you want your athletes to excel, you must choose to do the following:
pursue  your highest levels of excellence and help your athletes do the same
think and act in positive ways every day and in every situation
focus on the positives every day
act on and reinforce the positives with your athletes
keep a sense of passion, purpose and perspective on your journey to excellence.
remember why you are doing what you are doing
embrace the simple joys and small wins along the journey to excellence !
Nicolas Von Burg
Nicolas is a former top ranked Swiss tennis player, national tennis coach for 15 years, and author of the book "Beat the Loser". Today, he works with athletes, clubs, coaches and businesses to help them achieve their objectives, and improve performances - both in their private, business and sporting lives.
"le succès de demain, se prépare aujourd'hui. Parce ce que la performance est un équilibre précis entre la tete, le corps et le coeur."  Nicolas Von Burg.
Chris McSorley
With over 25 years of professional coaching under his belt, Chris McSorley the coach and General Manager of the Geneve-Servette Hockey club, is probably one of the most well known and charismatic coaches in Switzerland.  With this team he has been Swiss vice-champion twice, and Spengler Cup Champion twice and he now has his sights set on bringing a Swiss Championship to Geneva.  Chris has coached 1000's of  hockey players, each having their own unique qualities, strengths and weaknesses and he has become a master at maximizing individual performance to create a winning team.
While he has a reputation of being "tough" with his players, he is known for developing young athletes and instilling confidence in them to perform under pressure in the big leagues!
Chris will speak about building mental toughness, focus and motivation and what it takes to play professional sport and to continue to perform at this level.
Olivier Raynal
Olivier Raynal has been a golf coach since 1989, 2 years after he started playing the sport. He works with European Tour professionals and youth teams, and has been involved in the training of more than 150 coaches.
Olivier is the Head Coach of the biggest golf school in the Rhone-Alpes region (approx. 200 players) near Lyon and has been coach for Rhone-Alpes youth teams (U10 boys and girls, U14 and U16 girls) for more than 15 years. He has coached players for more than 200 tournaments worldwide. He is a speaker for youth training and supports golf schools and organizations.
His students' goals - not his - direct his work. What the players want to learn is more important than what the coach wants to teach. He improves the strengths of players with a positive approach and helps them construct themselves for life more than for their performance in sport – though improved performance is often a positive side effect of his coaching style.

Honey Thaljieh
A role model for women and girls in the Middle East, Honey Thaljieh is the co-founder and first captain of the Palestinian Women's National Football Team. Following a series of career-ending knee injuries, Honey directed her efforts to empowering the next generation. Through her extensive network of partnerships, she has created, developed, and maintained sports initiatives for thousands of boys and girls throughout the West Bank and the Gaza Strip. She currently works at FIFA as a Corporate Communications Manager.
Daniel Vukovic
Daniel Vukovic is a professional hockey player, currently playing with the Genève-Servette Hockey Club.   He has played 8 seasons with the GSHC and over 400 games of professional hockey and is the assistant captain.  With GSHC he has won the Spengler Cup twice, and recently won it a third time, while playing with the Canadian team.  Prior to moving to Europe from Canada, Daniel played NCAA hockey for Michigan State University where along with this teammates, he also won the NCAA Championship.
Dan complements his pro career helping youth as an assistant coach and as a volunteer working with school kids teaching them how to skate and play hockey – while also teaching kids the about the discipline and joy of playing sport.
Dan feels strongly that outside his family, the various coaches he has had over the years have had the greatest impact in developing not only his career but have also helped developed who he is as a human being.
Ivan Rudez
Ivan has over 10 years of professional coaching experience. The Head Coach of the Geneva Lions Basketball Club since 2012, and newly appointed as Head Coach for the Slovak Republic National Team. He has led his team to 2 National Championships, 2 Swiss League Championships and won the Swiss Cup. He has also been voted coach of the year 2 times in Switzerland.
Through his years as a player and coach, Ivan has developed an expertise in team building, group dynamics and in understanding the individual and team approach to mental preparation throughout a season.
Sarah Atcho
Sarah Atcho is a Swiss sprinter from Lausanne-Sports. She is one of the "World Class Potential" athletes selected by Swiss Athletics. Sarah competed in U23 European Championship in Tallin (Est.) with a 6th place for the 200 meters and a third place for the 4x100 meters relay. She finished at the 13th place with the Swiss national team for the 4x100 meters relay at the World Champioship in Beijing in 2015. 
Dan Nadeau
Dan Nadeau is a former RCMP officer who is highly regarded by the Royal Canadian Mounted Police Force. Dan ended a long and rewarding career teaching at Depot, taking on the firm arms instructor position, where he inspired future generations of law enforcement officers. As a former National Pistol Champion, Dan shared his technical knowledge along with proactive de-escalation techniques that Verbal Judo is known for.
 
Following his law enforcement career, Dan took a professor position at the New Brunswick Community College where he shared his passion for academia and sport, leading his team to numerous Volleyball championships. As a Certified life-skills coach within the International Coaching Community, and a Mental Training Coach, certified through the Scandinavian International Agency, Dan has much to offer.
 
Dan's strength and ability to connect with others is rooted in his experience with Post Traumatic Stress Disorder, a condition that brings with it a level of stigma in law enforcement. However, Dan's diagnosis, which resulted from his struggles both personal and professional, having lost 3 children to Cystic Fibrosis along with certain traumatic occurrences while serving and protecting the public, has enabled him to assist others in their struggles through the sharing of his own powerful and transformative journey.
 
With decades of experience in Verbal Judo training, combined with an impressive life-journey, Dan offers a myriad of experiences that assist him in providing an enriching learning environment for those who have the pleasure of attending his training.    
195 CHF / person
Price includes: all day conference, breakout sessions, coffee breaks, lunch, gifting and an opportunity to be a better coach!