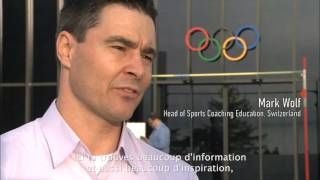 A two-day interactive conference and workshop on the psychology of sport performance, motivation and mental training for coaches of youth athletes
We are offering two full days of intense training with a certified sport psychologist, professional motivational trainers, professional coaches and athletes. It's a unique opportunity to help you take your coaching skills to the next level and maximize your team's or athlete's performance
Do you want to be a better coach? Do you want to help your athletes to breakthrough? Do you want to take your athletes to the next level?
TOPICS INCLUDE: Psychology of performance, Mental preparation, Positive coaching, Athlete Mental Health, Connecting with your teenage athletes, Motivation, and more
EVERY ATHLETE DESERVES A GREAT COACH! YOU CAN BE THAT PERSON
You will interact with coaches in other disciplines, gain new skills and techniques, and most importantly, learn how to get the most out of your athletes!
350 CHF / person for 2 days (conference and workshop)
or
195 CHF / person for 1-day conference only
Price includes: two-day conference and workshop or one-day conference, breakout sessions, coffee breaks, lunch, gifting and an opportunity to be a better coach!