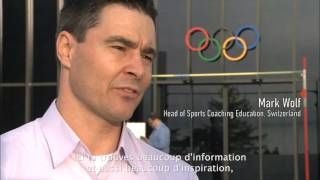 A two-day interactive conference on the psychology of sport performance, motivation and mental training for coaches of youth athletes
We are offering a full day of intense training with a certified sport psychologist, professional motivational trainers, professional coaches and athletes. It's a unique opportunity to help you take your coaching skills to the next level and maximize your team's or athlete's performance
Do you want to be a better coach? Do you want to help your athletes to breakthrough? Do you want to take your athletes to the next level?
TOPICS INCLUDE: Psychology of performance, Mental preparation, Positive coaching, Athlete Mental Health, Connecting with your teenage athletes, Motivation, and more
EVERY ATHLETE DESERVES A GREAT COACH! YOU CAN BE THAT PERSON
You will interact with coaches in other disciplines, gain new skills and techniques, and most importantly, learn how to get the most out of your athletes!
Nicolas Von Burg
Nicolas is a former top ranked Swiss tennis player, national tennis coach for 15 years, and author of the book "Beat the Loser". Today, he works with athletes, clubs, coaches and businesses to help them achieve their objectives, and improve performances - both in their private, business and sporting lives.
"le succès de demain, se prépare aujourd'hui. Parce ce que la performance est un équilibre précis entre la tete, le corps et le coeur."  Nicolas Von Burg.
Olivier Raynal
Olivier Raynal has been a golf coach since 1989, 2 years after he started playing the sport. He works with European Tour professionals and youth teams, and has been involved in the training of more than 150 coaches.
Olivier is the Head Coach of the biggest golf school in the Rhone-Alpes region (approx. 200 players) near Lyon and has been coach for Rhone-Alpes youth teams (U10 boys and girls, U14 and U16 girls) for more than 15 years. He has coached players for more than 200 tournaments worldwide. He is a speaker for youth training and supports golf schools and organizations.
His students' goals - not his - direct his work. What the players want to learn is more important than what the coach wants to teach. He improves the strengths of players with a positive approach and helps them construct themselves for life more than for their performance in sport – though improved performance is often a positive side effect of his coaching style.
Daniel Vukovic
Daniel Vukovic is a professional hockey player, currently playing with the Genève-Servette Hockey Club.   He has played 8 seasons with the GSHC and over 400 games of professional hockey and is the assistant captain.  With GSHC he has won the Spengler Cup twice, and recently won it a third time, while playing with the Canadian team.  Prior to moving to Europe from Canada, Daniel played NCAA hockey for Michigan State University where along with this teammates, he also won the NCAA Championship.
Dan complements his pro career helping youth as an assistant coach and as a volunteer working with school kids teaching them how to skate and play hockey – while also teaching kids the about the discipline and joy of playing sport.
Dan feels strongly that outside his family, the various coaches he has had over the years have had the greatest impact in developing not only his career but have also helped developed who he is as a human being.
195 CHF / person
Price includes: two-day conference, breakout sessions, coffee breaks, lunch, gifting and an opportunity to be a better coach!