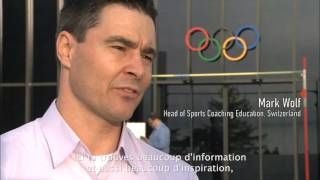 A two-day interactive conference and workshop on the psychology of sport performance, motivation and mental training for coaches of youth athletes
We are offering two full days of intense training with a certified sport psychologist, professional motivational trainers, professional coaches and athletes. It's a unique opportunity to help you take your coaching skills to the next level and maximize your team's or athlete's performance
Conference - January 26, 2017
Olympic Museum, Lausanne, Switzerland
A full day conference with expert speaker presentations, athlete round table, museum visit, breakout sessions and more.
At the conference you will: Develop new coaching techniques and approaches taught by coaches that have successfully trained elite, pro and Olympic athletes and learn how to positively motivate, build confidence and interact with your athletes in a way that will improve performance.
Workshop - January 27, 2017
Maison du Sport International, Lausanne, Switzerland
On day two, you will have the choice to participate in a variety of different interactive workshops in smaller groups. These workshops will focus on specific coaching challenges, and provide real solutions and tools that you will be able to apply with your own athletes.
NOTE: Space in the workshops is limited and is conditional on participating in the conference on Day 1.
One Day - January 26, 2017: 195 CHF
Includes conferences and lunch, coffee breaks & course materials
Two Days - January 26-27, 2017: 350 CHF
Includes conferences, workshops, lunches, coffee breaks & course materials
Do you want to be a better coach? Do you want to help your athletes to breakthrough? Do you want to take your athletes to the next level?
TOPICS INCLUDE: Psychology of performance, Mental preparation, Positive coaching, Athlete Mental Health, Connecting with your teenage athletes, Motivation, and more
EVERY ATHLETE DESERVES A GREAT COACH! YOU CAN BE THAT PERSON
You will interact with coaches in other disciplines, gain new skills and techniques, and most importantly, learn how to get the most out of your athletes!
350 CHF / person for 2 days (conference and workshop)
or
195 CHF / person for 1-day conference only
Price includes: two-day conference and workshop or one-day conference, breakout sessions, coffee breaks, lunch, gifting and an opportunity to be a better coach!